Greenhouse Kits for Sale Langley - Pricing and Information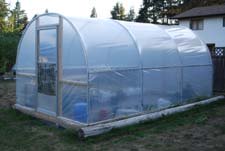 Our Hoop House / High Tunnel Greenhouse Kits for sale langley come as a standard 10' wide by 10' tall Hoops, they include the parts that are not readily available from your local Hardware store.
The Hoop House can be made to any length by adding additional Hoops.
Hoop House Kits Additional Resources:
Hoop House Kits Additional Resources:
---
Hoop House Kit:
1) 10 feet wide by 10 feet tall - Galvanized Hoop House Kit.............................................$167
Made with Galvanized steel (so it will never rust).
Includes 10 Brace bands - needed to secure and steady the Hoop House. Additional Brace Bands = .60 cents ea.
Included in the kit is a detailed and illustrated set of Greenhouse Construction plans (on CD).
Other materials needed can be picked up from your local Hardware store.
Greenhouse Kits for sale Langley
---
Additional Hoops:
2) If you would like to build a Hoop House Longer than 10 feet, additional Hoops can be added for an extra 5 feet in length (or 50 sq.ft. per hoop) additional cost of.....$52
also good to add strength to your hoop house if strong winds are a concern.
extra Hoops can be added at any time (but it's recommended to do it right away if a larger greenhouse is preferred).
1 additional Hoop adds an extra 4-5 feet to our Greenhouse Kits (or 50 square ft.).
---
Poly Plastic Covering:
3) 6 mil UV Treated Polycarbonate. Poly Plastic......... .28 cents per square ft. (Please contact us below for availability)
Strong 6 mil.
UV protected Poly Plastic
4 Year Film Life
Greenhouse Kits for sale Langley
---
Poly Clip:
4) Contact us if interested in Poly Clip
easily attaches Plastic to Hoop Frame.
attaches the plastic tight and securely, leaving no room for air drafts.
We have included another option for attaching the poly to the frame in our included instructions. This includes using a 1"x2" wood strip in place of the Poly Channel.
---
We hope to hear from you:
We have included a Contact Form below - we would really appreciate it if you would take the time to leave us some feedback:
What do you plan to use a Greenhouse For?
How comfortable are you in using a DIY Hoop House Kit?
Do you have any questions or concerns, in regards to the build?
These are some of the things that we are interested in, but please feel free to ask us about anything.
Greenhouse Kits for sale Langley
---
www.HoopHouseKits.com Contact Form