Vegetable Container Gardening with Self Watering Containers
In my opinion Vegetable Container Gardening is best done in self watering containers. Why not? If you are want to grow vegetables in containers why not have it so they take care of watering themselves.
Container Gardening - more information on container gardening. DIY self-watering plans are below.
They are the perfect way to grow. The plant only takes the water it needs or wants. There is no chance of over-watering, and the initial set-up includes a ring of fertilizer to be spread underneath the protective cover.
Whether you already garden in a greenhouse or you are just looking into it, we highly recommend self watering containers, or Earthboxes.
If you already have a greenhouse they are a great way to grow even more fruits or vegetables, they are portable so you can grow with them outside during the warm summer days, and when the temperatures begin to turn.... just move them into the greenhouse.
Grow vegetables on your patios, decks, or even your condo balcony.
---
---
There are two ways to get a self Watering Container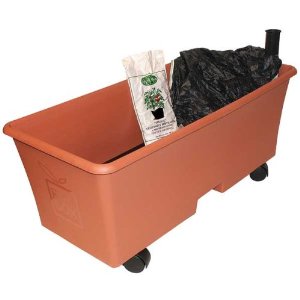 Earthboxes - These are a commercially sold vegetable container gardening systems that are the basis of Self Watering Containers. They can be purchased online.

Amazon.com has a good selection, you can see a few of them here, along with real reviews of customers - Self Watering Container Plans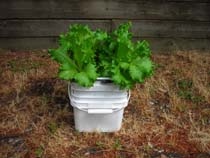 Above left is a picture of one of some lettuce that we grew in one of the self watering containers that we made, out of buckets that we got from a local grocery store for Free (they recycle them).
Free Self Watering Container Plans
The self watering containers worked great, take a look at the free plans. Make a few for yourselves.
I also grow tomatoes, cucumbers and peppers.
I will be adding even more this season. Currently making a few out of some 5 gal pails.
They really do work great.
Here are some of the benefits of Vegetable Container Gardening with Self Watering Containers:
They keep the plants up and off the ground, so they don't rot.
They limit the time spent having to water your plants.
Warm the plants root ball to promote fast growth.
No more weeding, or fertilizing.
Actually be able to go away for a weekend, with no worries of someone actually watering your plants for you.
Can be made out of:buckets, Tupperware storage containers, or....really anything once you know how they work.
Can be moved into a greenhouse to lengthen the growing season.
Food4Wealth
Another Great concept in Gardening is Jonathan White's Food for Wealth.
Take a look at our full review of Food4Wealth Review Here.
---