Hoop House Greenhouse

Hoop house, or poly tunnel, greenhouses are very affordable and fairly easy to setup. For the hobby greenhouse gardener, or commercial greenhouse nursery grower, these greenhouses are very versatile and cost effective.
Many backyard nursery hobbyists or small business owners have chosen to build one for these same reasons:
affordability
ability to Do it yourself
ease of construction
versatility
Interesting Links:
PVC Greenhouse Videos - Videos of PVC being used.
PVC Greenhouse - although I believe that it is best to use galvanized steel hoops, PVC are a cheap and readily available alternative.
PVC Wood and Pipe - PVC pipe is combined with 2x4's for framing in the ends.
PVC Projects - PVC can be used for more than greenhouse building and plumbing.
High Tunnel Gardening - here are some great resources for anyone wanting to grow in a Poly tunnel.
High Tunnel Greenhouse - benefits and in the News.
Polycarbonate Greenhouse - here is Video of one of our Greenhouses.

Hoop Houses - longevity and durability:
Hoophouses are also very long lasting - they will not rust or rot because they are made of galvanized steel tubing.
Their dome shape allows for easy run off of rain and snow, as well as wind, and can be pretty much built in any location no matter what the environment throws at them.
If the elements are on the extreme side (wind, rain, hail and snow) the galvanized hoops can be placed closer together so that the structure is more solid.
Hoop House Greenhouse construction pics - Step by Step using one of our kits.
---
---
Poly Tunnel Construction: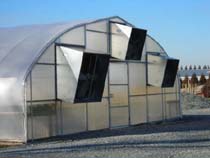 These greenhouses can pretty much be customized to anyone's needs or budget. They are bare bones, you get the essentials. It's up to you what direction you want to take it.
From automated venting, roll up sides and exhaust fans, to very simple construction of anchoring the hoops, burying the poly to pull it tight around the frame, and roll up the ends on hot days for ventilation. They're versatile.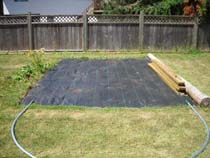 Foundation Prep:
The ease of foundation prep is also a perk.
We were worried, well I was worried, about the site and foundation preparation. In particular the cost, ok let me be honest, more importantly the labor.
I personally did not want to deal with a cement slab or the laboring over a perfectly level foundation – call me lazy… but I have other things that I wanted to put my time, and money, into (like my bonsai).
I did not once regret the decision. Actually I became quite passionate about these hoop houses.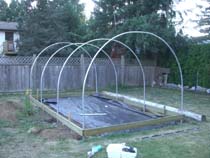 Expandability:
One of the more common suggestions made to people looking for a greenhouse is to purchase the largest size that your budget, and land space, will allow.
Plants grow, and it can be difficult to give them away, or get rid of them (you've grown and nurtured them, sometimes it's tuff to let go).
If you are a hobbyist, parting with your plants is not fun.
If you are selling these plants, then it's not hard to get rid of them at all, in fact it's fun….. but more greenhouse space will always be wanted, and needed, down the road.
Any ways the point that I was attempting to make is that they are easily expandable. So make the size that you need, or can afford at the moment, and easily add to it in the future.

Hoop Houses / Poly Tunnel Pros and Cons:
Pros:
Easy to expand
Easy to build
stands up to heavy winds or rough weather
greenhouse equipment
quick to construct
foundation easy to setup
Cons:
Poly covering usually needs to be replaced every 4-6 years