High Tunnel Gardening: A Review of The Four Season Harvest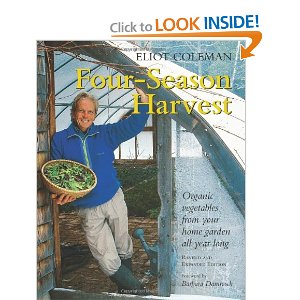 High Tunnel Gardening
The Four-Season Harvest
is a great book with a very simple approach to growing organic vegetables, using covered garden practices that can be addapted to any backyard growers needs.
****Note: If you have limited yard space available for this type of gardening please take a look at my review on Jonathan White's Food 4 Wealth - Reviewed.
Growing with Eliot Coleman's book explains exactly how to lengthen the growing season with the use of High Tunnel gardening.







Succession Planting and crop protection are the cornerstones of Mr. Coleman's system. This is a comment from the book, and illustrates the authors simplistic approach well: "Whereas the growing season may be chiefly limited to the warmer months, the harvest season has no suchlimits."
This is the table of contents for The Four-Season Harvest
, to give you an idea of the information that is presented in the book:
Chapters:
Presenting the Four Season Harvest - an Introduction
Getting Started
The Living Soil: Compost
The Outdoor Garden: Planning and Preparing
Seeds for Four Seasons
The Outdoor Garden: Planting and Cultivating
Garden Helpers
Envisioning the Winter Garden
The Covered Garden: Cold Frames
The Covered Garden: Greenhouses and High Tunnels
The Underground Garden: Root Crops, Root Cellars, and Indoor Harvesting
The Natural Garden: Plants and Pests
The Beginning of the Book:
The First 5 chapters of The Four-Season Harvest
are dedicated to Organic Gardening Practices. If you are currentlyan Organic Gardener you may already be familiar with some of the information discussed in these chapters.
Everything from the steps needed for healthy composting, proper soil structure, and crop rotation, down to sowing seeds,transplanting and trellised crops. Weeds are also discussed.
Envisioning the Winter Garden and Garden Helpers:
I found these chapters to be very interesting. I enjoyed the stories that the authors referred to during theretours of different gardens, both community and private.
The Chapter devoted to Envisioning the Winter Garden illustrates how a garden could keep producing allyear long, even without High Tunnel Gardening, as long as it was well planned ahead. (I will also mention that they also touch on thefact that plants take a lot longer to mature and crop yields are less, without a Hoop House).
---
****Note:Please take a look at a review on Jonathan White's Food 4 Wealth Method.
---
Garden Helpers:
This was an excellent chapter on the introduction of keeping ducks for high tunnel gardening, instead of chickens. For one thing did you know that ducks like to eat slugs?
Having a Chicken Coop has always appealed to me; however, this chapter had me interested in the thought of keeping ducks by the end.
Chapter 9 and 10 is dedicated to The Covered Garden:
These are the chapters that interested myself the most.
Gardening is great, but I am a true believer of the covered garden, and these are the chapters that explain how to setup a covered greenhouse, along with the information that will allow you to grow very productive crops.
A whole Chapter is dedicated to Cold Frames. And if you are limited in yard space, this is your chapter.
The High Tunnel offers everything from construction, icluding information on covering and framing in the ends.
This is the book for anyone interested in High Tunnel Gardening
Chapter 11:
Root cellars, crops and indoor gardens.
This section of the book explains exactily how to keep feesting on fresh vegetables during the coldest of winter months, through growing harvesting and storing.
Two Thumbs Up
All in All I highly recommend this book.
My only wish:
As a backyard grower myself, some of the concepts are geared towardsthe thought that there is a lot of land available, which just isn't so in my case.
I understand the need for crop rotation, and succession planting, but I do not have enough space to move my Hoop House periodically.
This is why I feel that this is a great companion book, to the Food4Wealth growing System by Jonathan White. For the backyard grower with limited land space, I recommend taking a look at this method.