Join Our Hoop House Mailing List

---
Bonus #1:
Sign up today for your Sample copy of the HoopHouseKits.com, Greenhouse construction plans.
Sample copy of our 38 page e-book on how to build your own Hoop House using one of our Greenhouse Kits.
once you have confirmed your subscription you will be directed to the Bonus page right away.
---
Bonus #2:
We have also decided to include our 22 page Introduction to Greenhouse Gardening e-book.
---
Our Newsletter:
Our Newsletter will keep you informed of what is going on with our Hoop House Kits. We will also send you information, once in a while, to let you know what is happening in the world of Greenhouse Gardening. Cancel at any time.
New DIY projects, great ideas for the greenhouse, and basically anything of interest that we feel our readers would get a kick out of.
Let us know what you think, we love the feedback. Thank you again for the interest.
If you are interested in helping us out with a testimonial of our Hoop House Kits, we look forward to speaking with you.
---
Sign Up Below for the Newsletter and access to the Bonus Offers as promised:
---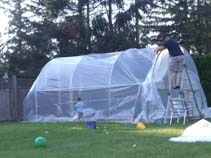 Thank you again, and we look forward to talking with you soon,






www.HoopHouseKits.com
www.123-greenhouse-gardening.com


---