Canada Greenhouse Kits
---
Build Your Own Hoop House/High Tunnel Greenhouse using our Galvanized Steel Non-rusting Greenhouse Kits.
---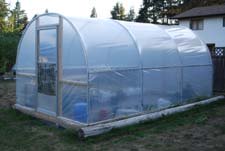 WWW.HoopHouseKits.com
Now You Can:

Grow vegetables year round in your own backyard.
Make room for your Hobby.
Grow Bedding plants or Tree cuttings for yourself or re-sale.
Start a Backyard Nursery Business.
Have a backyard get away, that you can garden in no matter the weather, or sit and read a book.
The opportunities are endless with this inexpensive Do-It-Yourself (DIY) Greenhouse Kit.
For: Canada Greenhouse Kits and Greenhouse Kits bc
---

What's included in our Hoop House Greenhouse Kit?:
We offer 10' wide Galvanized Steel Hoops, Brace Bands, along with a set of detailed and Illustrated Hoop House Construction Plans for people interested in Building a Greenhouse in their own Back Yard. Canada Greenhouse Kits


---
So Why a Hoop House?:
They are:
Easy to Build (no excavation needed).
Inexpensive (fraction of the cost of other kits, more greenhouse for your money)
Expandable – grow with your hobby or business (easily expand with 5 foot sections)
Portable – need to move it in the future? No problem
To learn more about the consideration to consider in choosing a greenhouse CLICK HERE
---
Really, is it Easy to build and set up a Hoop House Greenhouse?
Absolutely, it`s the easiest way to build a greenhouse. There is no excavation needed. No dangerous glass to deal with, and most of the materials can be picked up from your local Hardware store. Canada Greenhouse Kits, greenhouse kits bc
---
Take a look for yourself(We`ll give you a sample version of our 38 page Instruction e-book when you Join our Newsletter).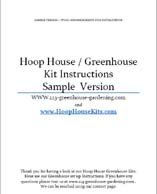 Complete Step by Step Illustrated Hoop House Greenhouse Construction Plans
These plans will give you a great idea about what exactly is involved with building your Hoop House.
Join now for your copy of the Hoop House Kit Sample Plans
***Bonus for Joining - Also includes our 22 page "Introduction to Greenhouse Gardening E-book
Canada greenhouse kits, greenhouse kits bc
---
Here is a look at a slide show of a Semi-build using one of our kits:
Join Our Newsletter, and receive information on Greenhouse Gardening. Canada Greenhouse kits, greenhouse kits bc


---
So what are the advantages to using a Do it Yourself (DIY) Kit?
Inexpensive to purchase
Save money on building materials
Easy to customize the build to suit your needs
You have total control of the build. Including a detailed set of Greenhouse Construction Plans.
For a sample set of our DIY Greenhouse plans CLICK HERE
---
Think outside the Box!
Again one of the great things about using a DIY Kit is that it allows you to
customize and control the build
.
Although we supply you with a set of detailed and illustrated instructions, it does not mean that they have to be followed to the letter.
Other ways to save money during the build is to (let alone the ways that you will save money with your greenhouse:):
use materials that you may already have
Recycle materials
Craigslist.com - great deals can be found. I have found many screen doors that I used.
Make your own door
In the full version of our instruction booklet, we illustrate an in-expensive way that the poly plastic can be attached to the greenhouse hoops.
As another example a zippered door can be used, to save on cost (click on the pic to follow link):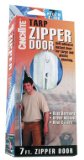 ---
---
There are many benefits to owning a Hoop House Greenhouse, and here are a few of the main ones one more time:
Grow Your own Fruits and Vegetables and save on your family's grocery bill
Produce Healthier, more nutritious fruits and vegetables than your local grocery store supplies.
Start a Home Based Backyard Business
Make room for your Hobby or teach something truly important, and fun, to your children
Become more self reliant - a greenhouse is a cornerstone to living a more sustainable life style.
---
And once you have a greenhouse the doors are opened to you for so many other possibilities, specialties and project ideas:
Here are some interesting project opportunities (you may have different ideas for a greenhouse - by the way we would love to hear about them! - Contact Us):
Auquaponics (self sustaining gardening using fish, and plants, living and sustaining one another together).
Hydroponic Gardening
Urban and Community Gardens
Solar Panels (DIY) - great project for your greenhouse, shed, or even your home.
Chicken Coops
For More Info on these Greenhouse projects and others to come - be sure to Join our Newsletter
---
Chances are We're Neighbors:
If you are reading this Website, first of all we thank you for your interest, and chances are that you live in our area. We are located in Langley, BC, Canada.
The reason that you are probably close by is that this is our Introductory Offer and launch of our Hoop House Greenhouse kits.
And part of our Introductory Offer plan, is that we are looking for a few people to supply us with a testimonial, and maybe even a couple of pictures (we'd also like to hear about the plans that you have in-store for your Hoop House).
Not everyone that takes advantage of this Special Price will have to supply us with a testimonial, but we are sure that there will be a few.
Not only are we sure that you will be proud, and want to show what you have built, we have found that Greenhouse Owners are very enthusiastic about their greenhouses - and love to share what they do.
If this is for a start up, or existing business, it is also a great opportunity to get some advertising for your company, as we will be promoting our site and Hoop House Kits in your local area.
If it's for the Family...... it's fun to share your story, and see pictures of your greenhouse on the internet :)


---
We're here to help:
We will be available by phone or e-mail in case you have any questions - this will also allow us to establish a FAQ (Frequently Asked Questions) page - you get the advantage of personalized Help whenever you need it.
That's right an actual Live Person to talk to refreshing, isn't it :)
So you see, we're not offering these kits at this price for nothing, although you are not obligated to give a testimonial, we have an interest in it too :)


This Price Will Not Last Long so be sure to take advantage of it now!
---


We hope that you have enjoyed this information, we have enjoyed sharing it.
We hope to talk to you soon, and would love to answer any questions that you may have. Any Questions??
All the best to you! - for easy reference of this site we have included some of the links at the bottom of this page :)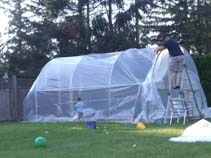 Best Regards,




P.S. Be sure to check out our sample plans - talk to you later.


---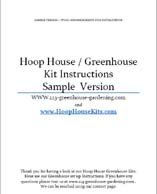 Sample Greenhouse Plans - CLICK HERE
---
Quick Reference Links:
Greenhouse Consideration Page
- key points to keep in mind in choosing the right greenhouse for you.
Hoop House Kit - Pricing
- Pricing and other information for our DIY Hoop House Kits.
Hoop House / Greenhouse Gardening Newsletter
- You've heard it before :).... but once again here is a link to our Greenhouse Gardening Newsletter, check it out.
www.HoopHouseKits.com
- back to the top of the page.
www.123-greenhouse-gardening.com
- visit our 123-greenhouse-gardening.com site, for more information on greenhouse gardening.
Contact Us
- feel free to contact us with any questions what-so-ever, we'd love to hear from you.
---
Hoop House Kits Pricing, Canada greenhouse kits, greenhouse kits bc
---