Greenhouse Kits For Sale
WWW.HoopHouseKits.com
Hoop House / High Tunnel Do it Yourself (DIY) Greenhouse Kits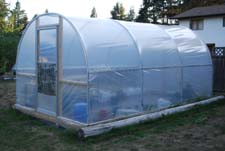 Welcome to Hoop House Kits.com. We offer an incredibly affordable greenhouse allowing anyone to affordably create their own micro climate right out in their own backyard.
---
What Is a Greenhouse Good For?
Having a greenhouse can add months to any growing season. They offer a perfect environment for any backyard vegetable, or farm market crop.
A Hoop House provides warmth and protection from wind, rain, hail, and snow. And, in the hot summer days they double as perfect shade houses.
They can also keep out unwanted pests and animals humanely.

---
Video of a Frame Set-up: Our Cheesy Video, but it will give you an idea of what is involved in Setting up the Frame:
---
1) Complete Instruction Booklet Free - See for Yourself:
We have also included our phone number in these plans, if you have further inquiries.
---
2) Hoop House Materials Build List:
---
3) Our Hoop House Kit Pricing:
If you are interested in this Hoop House Greenhouse Kit and would like more information, please send us an e-mail. We will answer any questions that you may have.
---
Versatility:
Again, the Hoop House is very versatile. A regular screen door was used in the build shown in the picture above. However, you can frame in the front, and back, of the Hoop Houses any way you like.
Use a screen door, make a door, install a vent..... we have included the basics for framing in the ends of the Hoop house using 2x4's.
With these basics understood, set up of the ends can be completed anyway that you like: larger door, vent, exhaust fan, windows……
---
Our Hoop House Kits:
The Kits that we are offering are for a back yard, or small nursery, Hoop House. Sturdy Hoops made out of 1 3/8" galvanized steel round tubing.
Included in the Kit (Standard - 10' x 10' Greenhouse)are:
Brace Bands
3 x (10'w x 10'h – Galvanized Steel Hoops)
Instructions (included on a CD)
The other materials needed to complete the build can be picked up from your local Hardware store. This is designed to save you money.
---
Sign up here and receive a copy of our E-book: Introduction to Greenhouse Gardening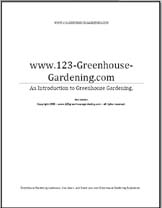 Some of the Topics covered in our E-book:
22 Pages
Greenhouse History
Build Your Own Greenhouse - most popular materials
Greenhouse Environment
Hoop Houses and Poly Tunnels
Greenhouse Covering - Different options
Solar Heating
Urban and Community Gardening
Greenhouse Kits for sale
---
These Kits can be used for many things – here are a few ideas:

Growing vegetables
Hobby Plants
Tomatoes
Herbs
Farmer's Markets
Aquaponics
Hydroponics
Shelters
Chicken Coops/Runs
Wind Breaks
Small Business
---
Interested in other Greenhouse Gardening Information?
As we mentioned we have another website where we have listed all of the Greenhouse Gardening information that we have accumulated over the time that we decided to get a greenhouse of our own.
This is the information that we sorted through before we made the decision to go with a Hoop House Greenhouse ourselves:
Free Greenhouse Plans
Greenhouse Kits
Materials to use
Greenhouse Temperature
Different Greenhouse Coverings available
Greenhouse Projects
Our Original site www.123-greenhouse-gardening.com
If you would like more information about any of the topics listed above, please be sure to visit our website:
---
Four Season Gardening:
If you would like to learn more about gardening in a Hoop House or High tunnel year round, we highly recommend the book:
Four-Season Harvest by Eliot Coleman.

Eliot Coleman's book Four-Season Harvest is the information source for year round gardening in a Hoop House Greenhouse.

Quote from the book (pg. 111Constructing the High Tunnel):

"Low-cost tunnel greenhouses work so well that if the public were more familiar with them, I think every gardening family would have one. they are a very flexible form of crop protection, since they can be erected quickly and covered or uncovered easily. They provide a protected environment that can appear almost at will - protection that did not exist yesterday but is in place today."
---
Hoop Houses in the News – They're making Headlines:
School Programs
Feed the Hungry
Cut down on your Grocery Bill
Do your part in saving the Environment
Community Gardening
Organic Vegetables
Farmer's Markets
---
Here are some points that support the choice to go with one of our Hoop House Greenhouse Kits:
Galvanized Steel – will never rust.
Last indefinitely. (for instance – PVC pipe is damaged and becomes brittle from the Sun's UV Rays, and need to be replaced over time).
Strength behind the Galvanized steel hoops.
In-expensive: We make them ourselves – we don't have large overhead so we pass the savings on to you. (but don't be fooled – they are not cheaply constructed – we use a standard 1 and 3/8" Galvanized steel tubing – so they will not rust, and are a sturdy and heavy duty Hoop House)
On-going support and gardening ideas through our website and Newsletter
We are local.
We offer a set of detailed and illustrated construction plans
We are available in case you have any questions.
Greenhouse Kits for sale
Thank you again for visiting,
Best Wishes,







www.123-greenhouse-gardening.com
www.HoopHouseKits.com


---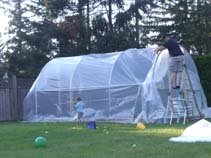 From Greenhouse Kits for sale to Top