Patio Greenhouse: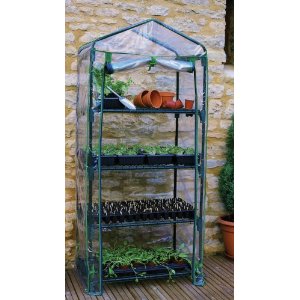 A greenhouse is still a greenhouse no matter what size it is. And a Patio Greenhouseis perfect for starting seeds earlier in the growing season or for protecting plants well into the fall or wintermonths.





Some of the Many Benefits of a small greenhouse:
offer protection for your plants
protect from animals
a great way to save space but still enjoy your hobby, or fresh vegetables.
prolong your plants growing season home page for other benefits
---
---
Perfect if you don't have very much space for a garden.
Start seeds in a patio greenhouse, to grow in a You can find a great set of plans Self Watering Container Plans.
---
A Patio greenhouse is a real advantage for seed-starting and other ways of propagating plants for free, and are probably the best-kept secret of many gardeners.
Why Miniature Greenhouses are so Beneficial:

Inexpensive
Save Space
Quick to set-up
Offer same benefits as regular size greenhouses do, as listed on ourhome page.
A Patio Greenhouse is ideal for overwintering plants, they are quick and easy to set-up, or take down and store. Also they are a great tool for gardeners to start plants from seeds or cuttings – allowing for a great way to get a head start on the growing season.
It is however difficult to regulate the temperature in a miniature greenhouse as the temperatures fluctuate rapidly, it is also difficult to monitor the temperature fluctuations.
It's the same thing as warming and cooling your car if you think about it. You can go to cold to too hot in a matter of minutes. Open up the car window and the temperatures drop right away.
A Patio greenhouse is so small that the temperatur changes are so drastic that the plants do not like it. So chances are that an artificial heat source isn't going to be needed.
Patio Greenhouse Indoors:
I use a patio greenhouse indoors to start my seeds and indoor cuttings for some indoor bonsai trees.It helps to get the humidity up, and I have it near the front door of our house where it is usually pretty cold.
I used a waterbed heater to warm the indoor greenhouse. A water matress heater is very similar to a seed matt.And this one has a built in thermostat to boot.
I am able to monitor the heat and humidity with an electronic Max/Min Thermometer.
Anyways that is another page in itself.
All in all a patio greenhouse is a great gardening tool.
If you do have room in your yard to grow a vegetable garden, I would like to suggest that you takea look at Jonathan White's page:
If you do not have a garden (or even if you do), be sure to take a look at a very good set of DIY self watering container plans (illustrated with pictures in a .PDF file). They are perfect for vegetable container gardening.
One of the best things about mini greenhouses is the fact that they are so mobile, they can be used as mini terrariums in the house for tropical plants, or outside for overwintering or propagation. They are incredibly easy to move around when need be.
However, if you're looking to do some more extensive gardening, mini greenhouses can still provide the right solution. Mini greenhouses generally require no tools for assembly and are low cost.
Another benefit is that they can be used within a large unheated greenhouse. This makes for even higher temperatures in the mini greenhouse – being able to start seeds, cuttings, or even grow tropicals.
If you have decided to grow a large quantity or a variety of plants then of course you will need a larger greenhouse, but if you just wish to have a few plants than a small mini greenhouse may do the trick.
Mini greenhouses can actually be placed anywhere such as:

Balconies
Patios
Backyards
Decks
And even in the house
Miniature Greenhouses pose a great learning process for beginners. The ins and outs can be learned by starting with a mini greenhouse, when ready graduation to a larger greenhouse is easy.
There are a good variety of herbs and lettuce that can be grown, healthily, and successfully in mini-greenhouses even throughout the whole year.
The room will be easy to heat and easy to cool, but to get that temperature just right, and keep it there, could be a little more difficult.
---
---
---
From Patio Greenhouse to Home Page