Rion Greenhouses: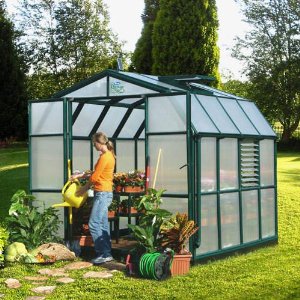 Rion Greenhouses are one of the more popular kits, available on the greenhouse market.
This page is an unbiased approach to this line of greenhouses.
This page is based solely on information and resources of what I have read and researched here on the internet.
---
If you are in search of some different Greenhouse ideas or alternatives you may be interested in looking at our Free Greenhouse Plans page.
---
Here are a few of the kits availabl.

This link takes you to the amazon.com page:
Rion models are offered from Amazon.com:
Amazon is a decent resource for different gardening materials and gadgets, and we have no problem suggesting them as a resource, they have been a great company to us.
---
---
Materials Used for the Frames:
The different kits available by Rion are constructed out of either a resin plastic or galvanized steelwith an aluminum frame.
These greenhouses are constructed using a resin plastic that snap fits together. The Instructions are reported to be fairly easy to follow and, are well thought out.
I liked the fact that these are built out of Resin plastic as most of the available aluminum kits, that I have seen, have thin frame rails that seem easy to bend (**Note: I have not seen the Rion kits personally).
We have a video of an aluminum greenhouse being constructed, offeredin quick time. If you used the link below it will be under the aluminum Kit link on the following page.
Greenhouse Kits - list of different materials used to make greenhouse kits
(***Note: Link is not Rion related).
---