About Us - Backyard Greenhouse Gardening
Hello,
Thank you for stopping by our backyard greenhouse - About Us page. As mentioned on our Home Page.
Hi I'm Ken,
Thank you for visiting our site.
We became interested in Greenhouse Gardening in around the winter of 2006. My bonsai trees were damaged by some heavy winds, and were burried by quite a lot of snow.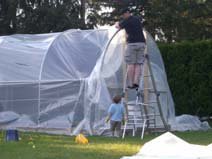 So, I started researching Greenhouses on the internet and began to visit many of the local nursery greenhouses located around our area. I looked at every style of greenhouse there was available, believe me I did my homework, and I'll prove it on our site.
In 2007 I became interested in Internet Marketing and wanted to build a website. I thought that it was a good opportunity to share all of the information that I had accumulated while I was researching my new interest.
Plus I thought that it would be a good opportunity to offer some of the information that I found so helpful to me about greenhouse gardening, shared all in one location.
The information that is available on this site, is what led me to my interest in Hoop House and High Tunnel Greenhouses.
I took a tour of the Greenhouse World, from local universities, nurseries, hobbyists and on-line information, and I am convinced that the hoop house, if you are looking to grow vegetables or native plants, is by far the best choice for a greenhouse.
I built my first Hoop House in 2008, and continued with my website while I worked on offering a Hoop House Kit that I could bring to our local community.
So, I have gone through the different "hoops" (I seriously wrote that not meaning to be a pun, so it sticks).
Be sure to take a look at the Greenhouse Plans link that we offer on our Home Page. It is a great place to start to see which kind of greenhouse appeals to you. Especially if you are looking to build one on your own.
I hope that you enjoy the site, and hope to hear from you if you have any questions about any of the information that we have available, including our greenhouse plans, or anything for that matter.
Best Regards,
Ken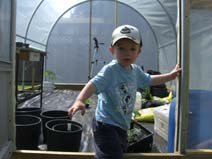 From About Us Backyard Greenhouse - to Our Home Page