Join the Greenhouse Gardening newsletter.
We are working on some more greenhouse gardening information and how to instructions, for different greenhouse projects, we are going to offer these to our Newsletter subscribers.
We have theFirst Version of our E-book available for Free, when you sign up.
If you ever have any questions or comments we'd like to hear from you. It helps to know the information that you are looking for, or the topics that interest you the most.
Visit our Contact page to send us a quick note: (so what are the topics that interest you the most? :)Contact Us
Hope you enjoy the e-book.
Talk to you soon
Project Coming Soon!
Self Watering Containers: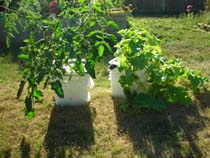 Here is a picture of one of
tomato and cucumber plants
that we grew in a self watering containers that we made out of muffin pales that we got from a local grocery store for
Free
(they recycle them).
The self watering containers worked great. This is one of the first how to projects that we will be offering to our Newsletter subscribers.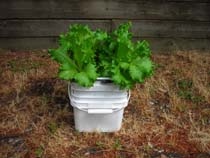 Great way to grow your produce:
keeps the plants up and off the ground, so they don't rot.
limit the time spent having to water your plants.
warms the plants root ball to promote fast growth.
No more weeding, or fertilizing.
Actually be able to go away for a weekend, with no worries of someone actually watering your plants for you.
Can be made out of:
buckets
Tupperware storage containers
or....really anything once you know how they work.