Greenhouse Plastic - Attaching to a Hoop house frame:
In attaching the greenhouse plastic to the hoop house frame, there are also a number of ways to do this. We found that the best way for us was by using the poly channel lock (see picture below).
Unlike some of the other ways that are available for attaching this material, it is easy to replace the poly film, when it comes time.
If using UV protected greenhouse film, as recommended, it will last for roughly a 4 year period, after that the poly film may need to be replaced. If using the poly lock, or poly channel, the clip just needs to be taken out the plastic replaced and the clip inserted into the lock again. Quick and simple.



Poly Channel: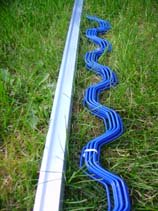 Here is a picture of the poly channel the silver rail is the channel that will be bent around the two end hoops. The blue wavy metal is the insertion clips that locks the greenhouse poly filminto the channel securing it to the frame.
---
---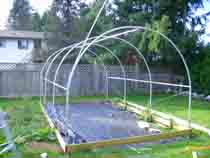 Here it shows the start of the poly channel being connected to one of the hoop house ends. The same will be done to the other.
Tek screws are also used for this, again I can't stress enough they are a great, great thing. You can see on the left side of the front hoop the channel sticking straight in the air, this will continue to be bent around the hoop, securing with tek screws.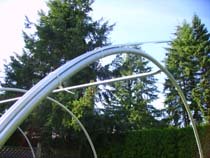 A tip to attaching the channel strip to the frame is to use "zap straps" or the wire straps to slide up connecting the poly channel to the frame. The zap straps hold the channel to the frame making it easier to attach it using the tek screws.
---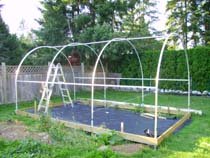 Here is a picture of the completed hoop house frame ready for the greenhouse plastic to be installed. This posting will come soon.
We will also show you how to build your very own hoop house using supplies that you can pick up from your local Hardware store.
---
From Greenhouse Plastic - Hoop house Install to Build a Hoop House