Wood Greenhouse Kits -
Wood greenhouse kits are another relatively inexpensive way to set up a greenhouse, if you plan to do it yourself.
There are also many expensive options in a pre-fabricated kit that you put together yourself. But these greenhouses are nice, and worth every penny if you ask me. I would like one of these one day for a bonsai workshop….. one day.
If you like the look of wood, there are a lot of beautiful greenhouses available on the market.
Wooden Greenhouse Kits: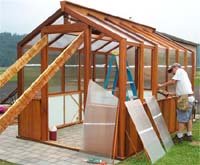 As mentioned there are a lot of wooden greenhouse kits available. There are some things to keep in mind when looking. Cedar greenhouses are without a doubt very nice to look at.
Here's a look at a relatively inexpensive way to use wood for a greenhouse: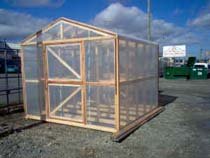 Have any wood kicking around your home. Maybe you can use it, it doesn't have to be the same style.
---
---
Building a Wood greenhouse for the Long Run. Type of wood is important:
If you are growing vegetables, herbs, and fruits you may want to stay away from pressure treated lumber or other wood that has been chemically treated.
One of the things that should be noted about using wood for greenhouse construction is that the wood tends to rot in the humid environment of a greenhouse.
If making a greenhouse out of wood appeals to you and you would like to avoid the chemicals in pressure treated lumber, you have the option to use Cedar.
Cedar is a great material to use in Greenhouse building – it does not easily rot, and greenhouse growers can use it and still be eligible for Organic grower's status.
And again, there are a lot of Wood Greenhouse kits that are available on the market that are made out of cedar, beautiful!
Do it yourself
Depending on the size of greenhouse, it is a great way to get started, again, you may even have some wood you can use already kicking around your home.

And really you don't need to buy a kit, although they are out there, you can use your imagination to layout the design. Build a greenhouse out of wood.
Also, a greenhouse can be made in-part, or completely out of wood. Just be sure that there is an adequate amount of light reaching, what it's all about….. your plants. Again south facing exposure is always best.
Pros and Cons of a Wood Greenhouse Kit:
Pros:
Easy to expand
Relatively easy to build
Great insulating capabilities
Get essentials from your local hardware store
Cons:
Wood will rot - make sure to use pressure treated lumber