Aluminum Greenhouse Kits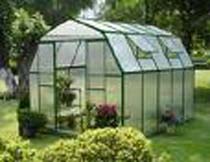 There are a number of very nice looking Aluminum greenhouse kits. These kits come in a wide range of styles and designs and are usually glazed with glass or a polycarbonate covering.

Most of these kits are fairly easy to put together, and come with all of the parts needed to construct it. Holes are pre-drilled and most companies will offer very easy to follow illustrated instructions.
Aluminum Greenhouse - Site and Location prep
As with all greenhouse kits thought will have to be given to the foundation.
Unlike some of the other styles of Greenhouse kits that are available, these structures are thought of as being a more permanent type of greenhouse. Permanent in the way that they are difficult to expand on, or move for that matter.
Set up Video:
Increase the height of your Aluminum Greenhouse kit:
You may think about placing them on a concrete slab. Many times the height of these greenhouses can be increased by using concrete blocks or wood landscaping ties to frame the base and therefore increase the over-all height. Doing this could potentially increase the height of the greenhouse by 2-3 ft.
Having a higher greenhouse allows for more Air Space, believe it or not, making it better for heating and ventilation, with less drastic changes in temperature.
Aluminum Kit Colors:
Aluminum greenhouses come in a large range of styles and sizes. The colour options are quite vast as well, making them a great choice if you are looking to match the look of your house, or if you would like it to blend into your garden or landscape as much as possible.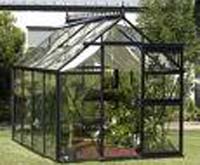 Extra Greenhouse Options:
The other nice option about one of these kits is that they often come equipped with automatic vent openers. These can be installed in pretty much any greenhouse, but no matter what, they're a great thing.
Here is a brief summary of the Pros and Cons of an Aluminum Greenhouse Kit:
Pros:
all the pieces needed are included (ready to be assembled) – excluding the base
come well equipped ready for additions of your greenhouse equipment
wide variety of colors and styles
can easily blend into any backyard or existing garden
Cons:
hard to ad to if you would like to expand your greenhouse one day
More expensive than other available kits
Foundation needs to be well planned out and laid
Other Greenhouse Topics that may be of Interest:
PVC Greenhouse and Free Plans
Video of completed PVC Greenhouse, along with free detailed PVC DIY greenhouse plans.
Wood Greenhouse
Pros and Cons of building a greenhouse out of Wood.
Greenhouse Temperature
How to regulate the temperature in a greenhouse.

From Aluminum Greenhouse Kits to Home Page