DIY Greenhouses: Old Shelter or Portable Garage Frame Do It Yourself Greenhouse
This is a very doable DIY Greenhouses project. Especially if you can get your hands on an old shelter or temporary metal garage frame from someone. I know that there are many of these that have seen better days, and some people just want to get rid of them.
Or maybe they just didn't have a good use for them yet.....
Looking for some ideas on how to garden year round in a greenhouse? Be sure to take a look at this Greenhouse Gardening Information
Here is a picture of one of the temporary garages we're talking about.
I took this picture of a, converted old shelter to greenhouse project, when we were driving to the pumpkin patch to pick up a few Halloween pumpkins.
I saw a couple of greenhouses along the way so I thought that I would snap a couple of pictures.
---
This is a picture of a DIY Greenhouse that we saw, made out of an old quick garage metal tube frame: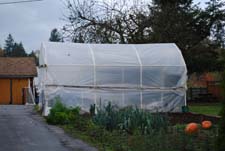 These old garage frames are a great way to set-up a quick greenhouse and get growing.
---
When we were thinking about building a Greenhouse, after a lot of research, I knew that I wanted it to be a hoop house and before we built ours I thought that I would try this out myself.
---
- This Link will take you to our Greenhouse Plans Page.
---
---
One of our Hoop Houses:
You can take a look at a Hoop House Build here: Building a Hoop House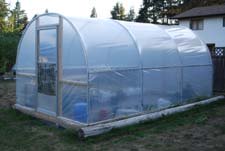 ---
A Step by step Picture Build of a Shelter Greenhouse:
I found a page that has a step by step picture of a similar build. You can see the link below.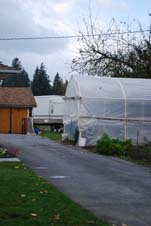 Here is the link to the step by step build with pictures. This is how some people decided to set up an old storage structure into a greenhouse of their own:
Materials used for this build:
Here's the Link:
---
I think that this is a great idea. It sure beats the frame hitting the dump once the original cover has ripped or has deteriorated.
Whichever way that you decide to build a greenhouse of your own, Greenhouse Coverings, or glazing, is a good subject to brush up on. You can take a look at our greenhouse glazing page for more information.
---
And if you do build a greenhouse of your own, or currently have a greenhouse of your own we would sure appreciate it if you would send us a picture. We would love to showcase it on our website. Contact Us
---