Build a greenhouse with Free Greenhouse Plans:
Free Greenhouse Plans: there are a many different ways to build a greenhouse, and if you plan to build one using a set of greenhouse plans there are some things that you may want to keep in mind when choosing the right ones for your project.
There are a number of free greenhouse plans available, and we'll offer some greenhouse tips that are helpful in building a greenhouse.
The nice thing about using greenhouse plans is that you likely have all, most, or some of the tools needed on hand.


The other thing is that most of the materials, but not all of the Greenhouse Materials, needed to build a greenhouse can usually be found at your local hardware store.
The right tools for the Job:
Here is a list of the tools that we think are the most helpful in greenhouse building, although the tools needed will depend on the style and materials used, the following are the most common:
Drill and bits
Heavy duty stapler – for attaching Poly Film (if poly channel is not used).
Utility Knife
Tape Measure
Hack saw
Circular Saw
Shovel and rake
Wrenches – to tighten bolts
Pliers
Carpenter's Square
Level
Pencil
Wire, zap straps, Hose clamps (are all handy to have around).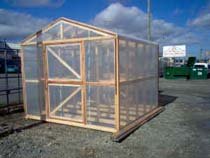 The materials used for building a greenhouse are based on the type of greenhouse that is being built.
It is great to be able to find a set of greenhouse plans that come with a list of materials needed, but the fact is that your perfect plans may not have a list. Really not that big a deal with a little bit of planning.
Although they may not be listed, it is usually pretty easy to make a list yourself. You can figure out exactly what is going to be needed before construction starts. It is always a good idea to have all of the materials needed, I don't know how many times I have had to make a trip to the hardware store because I didn't fully plan ahead….


Here are some of the more common materials to build a greenhouse from plans:
Pressure treated lumber
Cedar (if you prefer natural wood)
Aluminum
Straw/Hay bales
miscellaneous recycled materials
Many greenhouse cover choices are available to choose from
Really imagination is the limit; when it comes to greenhouse building, any type of material could potentially be used to make a greenhouse.
---
Look at some Free Greenhouse Plans
---
Tweak these free greenhouse plans :
If a greenhouse plan is found that seems to be perfect but isn't just right, you may want to try to make the changes in the design yourself.
There is no right or wrong way to build a greenhouse as long as in the end the effect, and plant environment is achieved.
---
From Build with Free Greenhouse Plans to Greenhouse Plans page