DIY Greenhouse – Hoop House – Suring up the Hoops:
DIY Greenhouse - This page shows the Greenhouse that we made in our backyard.
But before that here are a few interesting links for DIY or (Do It Yourself) Greenhouses that you may be interested in.
DiY Greenhouses - a Greenhouse I came across built out of an old temporary car storage frame.
Do It Yourself Greenhouse - some other quick fix ideas.
Building your own greenhouse really isn't as intimidating as some people make it out to be.
Here is one of ours.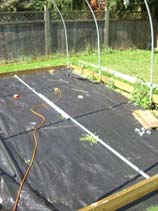 We laid out the top pipe perlin to measure the length of the DIY greenhouse and to make sure that it would be the right length. This is the "back-bone" of the greenhouse and what will keep the greenhouse from being week, and being able to blow in the wind.
It is the greenhouse perlins that give the greenhouse it's support. If you plan to use hanging baskets in your greenhouse extra perlins can be put into place at the right height to accommodate the baskets. This will also give the greenhouse even more support.

Visit our Hoop House page if you would like to learn more about Hoop House's.
Also we have found that Jonathan White's gardening system is perfect for gardening in a Hoop House - take a look for yourself here:
---
---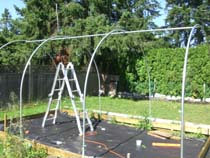 Here it is installed, I was able to complete most of the greenhouse construction on my own; however, it is definitely handy to have someone to help out. Especially when it comes to covering the greenhouse with poly.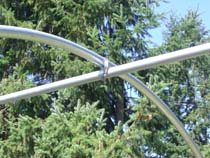 To attach the perlins to the individual hoops a hose clamp does a great job. There are other ways of doing this, this is the way that we chose.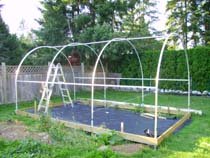 We used the Poly channel, or poly clip for the side rails as well. We used the side rail so we could use it for side roll-up ventilation. During the winter, or cold season the poly film can be completely closed and during the summer the poly channel can be unclipped and the sides rolled up . We chose to place this side rail about 4.5 feet from the 2x6 bottom wood frame, leaving a lot of room for the side ventilation.
We used some guide wires for this bracing. These wires can be tightened or loosened helps to sure up the diy greenhouse frame and level the hoops. It is better to use pipe or wood because it makes it sturdier, it all depends on your budget – we decided to try out the wire.


Next Step - Installing the Plastic