Greenhouse Construction - Hoop House Site Location and Prep:
These links offer a bit of information about Greenhouse Glazing Materials. The most important part of any greenhouse.
Below these links, is a step by step of a Hoop House that we made using Galvanized Steel Tube Hoops. Greenhouse Plastic
Greenhouse Covers - a little description of each of them with a interesting video, with a catchy song, explaining what glazing is good for.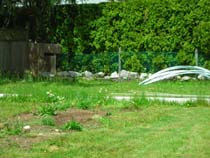 Greenhouse Construction: My Mom wanted to start her own Backyard Nursery, to plant cuttings etc..... for re-sale. She has a 1/3rd of an acre and it was a perfect location for her backyard nursery.
We chose a location that received a lot of light, and prepared the layout so that the length of one side of the greenhouse faced south.


Levelling the site:
One of the nice things about building a hoop house greenhouse is that they are very affordable. Some of the greatest costs of building a greenhouse come from the foundation as well as the greenhouse glazingmaterial used.
Since you don't have to pour a concrete slab or have it perfectly level site prep is relatively easy and very inexpensive. We chose to use ground cover under ours. But there are many choices – Another great thing about the hoop house is that they are versatile too!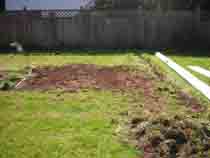 The site was cleared and leveled filling in any holes, smoothing out the high and low spots.


Hoop House - if you would like to learn more about the Hoop House as a Greenhouse.
Greenhouse gardening information - if you are looking for ways to grow in your Hoop House all year long.
Setting up the Frame and Foundation:
We then set up the foundation posts. We chose to cement the foundation posts into the ground for this greenhouse, because it is permanent and there is room to expand in the future.
However, these foundation posts can also be hammered into the ground, making greenhouse construction time faster and cheaper.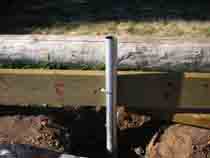 We secured the foundation posts to the bottom band or frame using pipe strapping.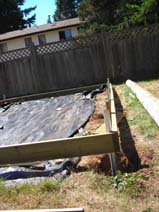 We used 2x6 pressure treated lumber for the bottom band.


Foundation Materials:
There are a lot of ways to build a greenhouse construction foundation, even with a hoop house. We chose to go with a simple ground cover. This was the quickest way to set up our greenhouse and worked great for us.
We decided at the last moment to cement our posts into the ground (that is the reason that we laid the ground cover before setting the posts : ).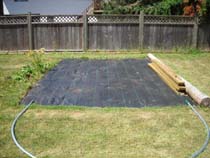 The future site of their greenhouse, one of the hoop house's "hoops" laying in front of the ground cover.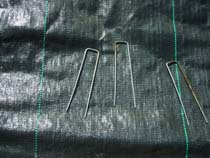 These are the stakes that are used to secure the ground cover to the ground.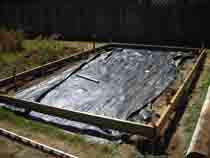 A completed look of the greenhouse foundation ready for the hoops to be installed.


Greenhouse Construction: Next Step - Installing the Hoops